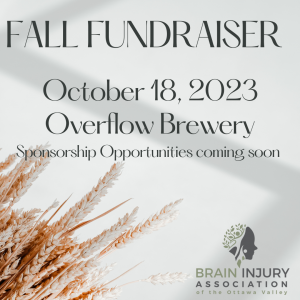 TICKETS AVAILABLE FOR PURCHASE – CLICK HERE!
This fall fundraiser is in it's 16th year, and is one of two major fundraisers that supports the programs offered by the BIAOV. It is a networking event that gives you a chance to catch up with friends and colleagues, listen to music, hear stories about life after brain injury, and donate to the cause.
Please note that we have moved to a NEW VENUE this year – the Overflow Brewing Company, 2477 Kaladar Avenue near Bank and Heron offers lots of space, a beautiful patio (weather permitting) and tons of free parking – oh – and great food and beer!
Tickets are $125.
Thank you for your support!
Thank you to our presenting sponsors: